Spirits Bright: #OHMagicalChristmas at Our Home
Written by: Pojie Pambid
Continuing with OUR HOME'S tradition of creating spectacular holiday displays, OUR HOME delivers a bright and youthful albeit a decidedly feminine approach to a unique Christmas celebration. The season is continuing to come alive with a different, unique yet still striking and stylish mélange of how Christmas can be celebrated and enjoyed in your own homes. Different shades of pink and beige take center stage in this style where a sense of nostalgia and a touch of whimsy evoke a vibrant take on spending the holidays.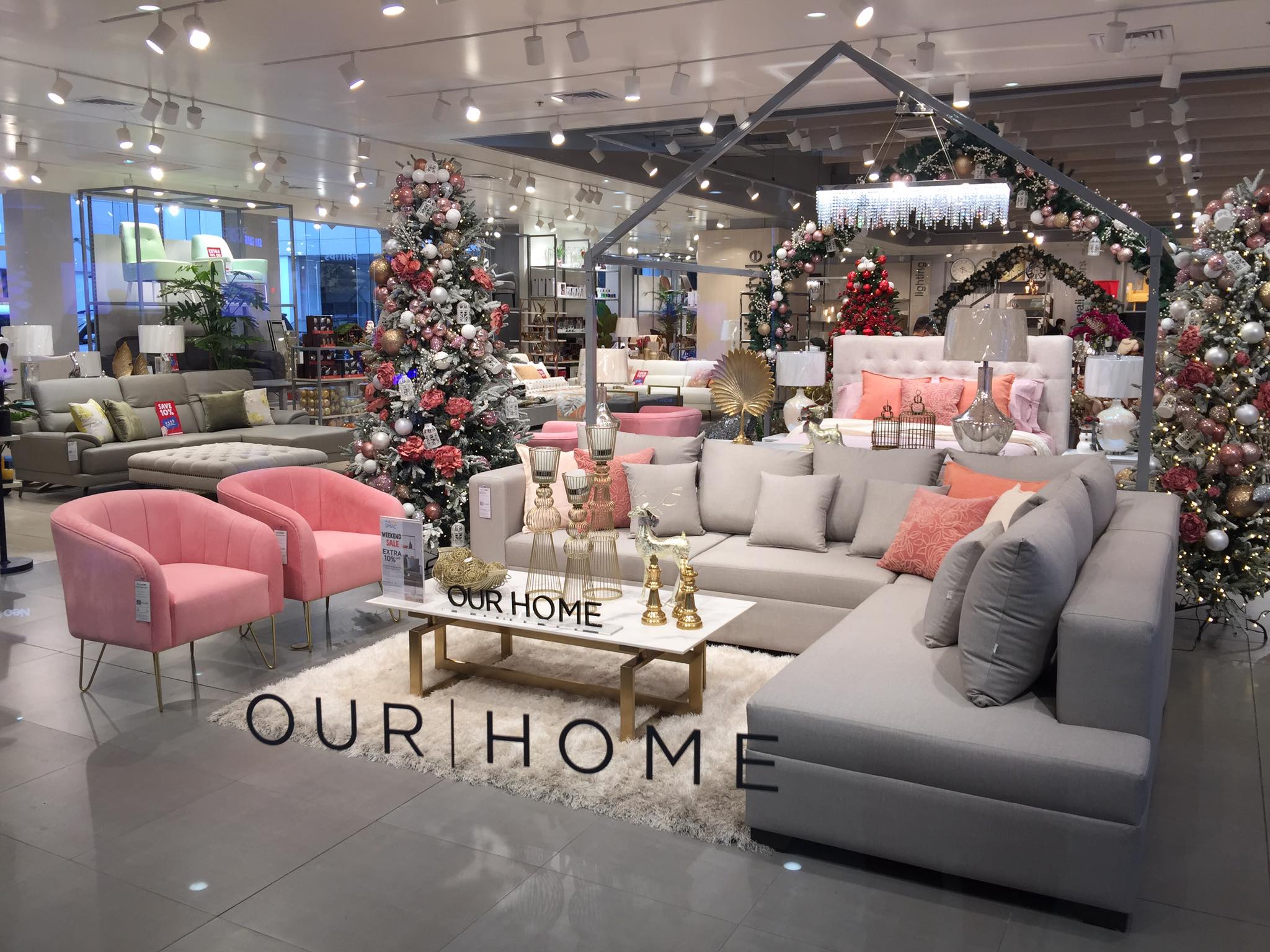 Let's start with the tree. First up, frosted green fir trees are decked with pink, champagne, gold and white balls for a classy, fun and inimitable look. Balls are also varied in this styling where glitter, shine, gloss, matte and pearlized finishes mix and marry creating a myriad of different textures that play up when exposed to the bright and twinkling lights of the tree. Then, to add a little whimsy, miniature bird cages in a distinctive Victorian design punctuate the branches eliciting a romantic vibe. And to cap off the look of the tree, pearlized white berry branches and large mauve paper roses add texture and character. These signature décor make for a matchless addition to the interior design of the settings.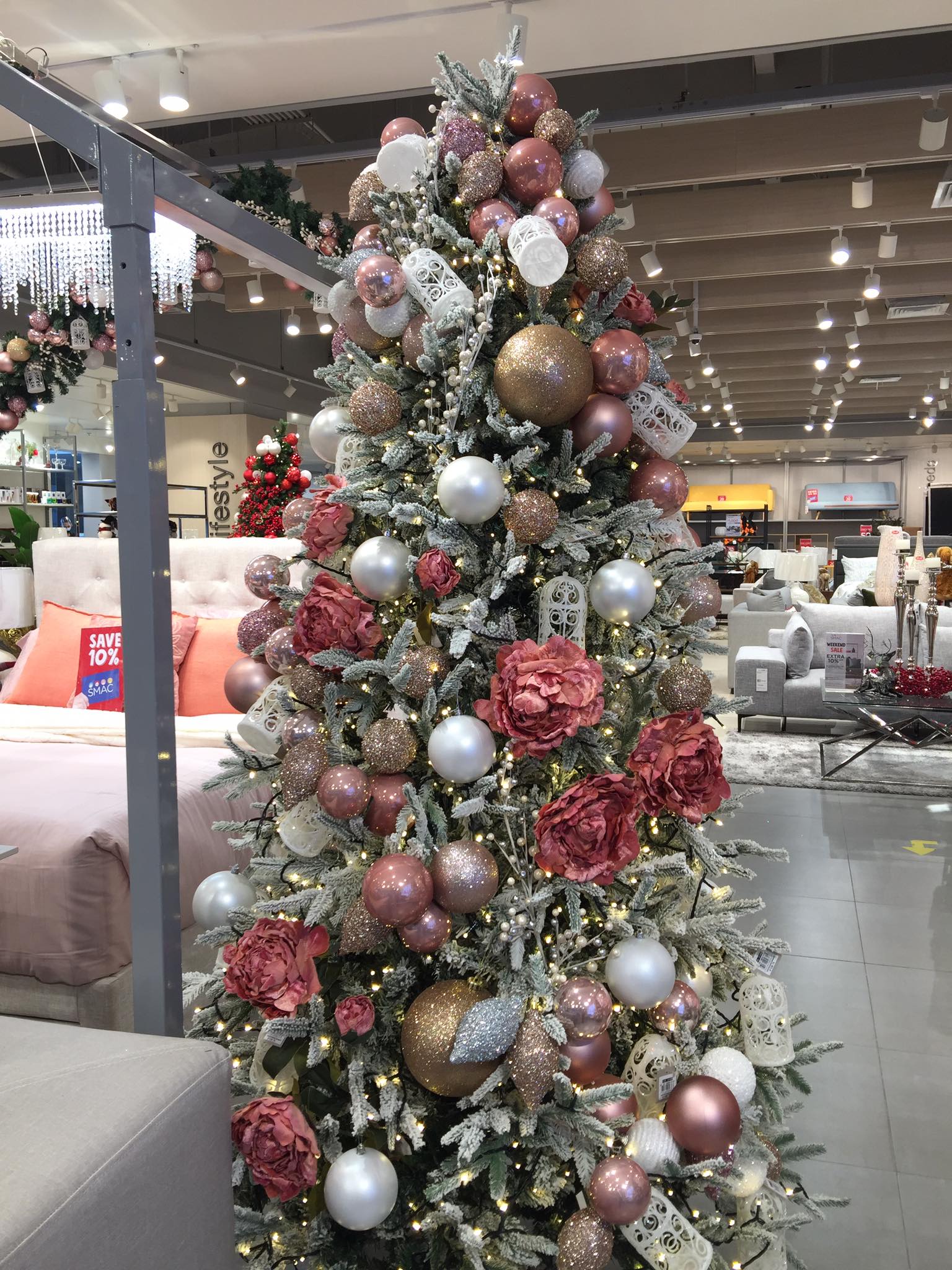 The entrance focal then beckons with an oversized L-shaped beige leather sofa that takes in much of the space and is a guaranteed crowd-drawer. Velvet brocaded blush accent pillows and satin champagne throw pillows provide contrast while a bright bubble gum pink area rug anchors the setting in place. A pair of contemporary tub accent chairs in a carnation pink tufted velvet upholstery provide a stark accent to the sitting area and give off a luxurious feel. A matching white marble-topped center and console table with gold bases add elegance and sophistication while accent and occasional tables in mirrored glass finishes with gold legs echo the same feel. Gold lamps with ecru shades as well as an assortment of gold and crystal accessories sparkle and shine for that bright and festive mood.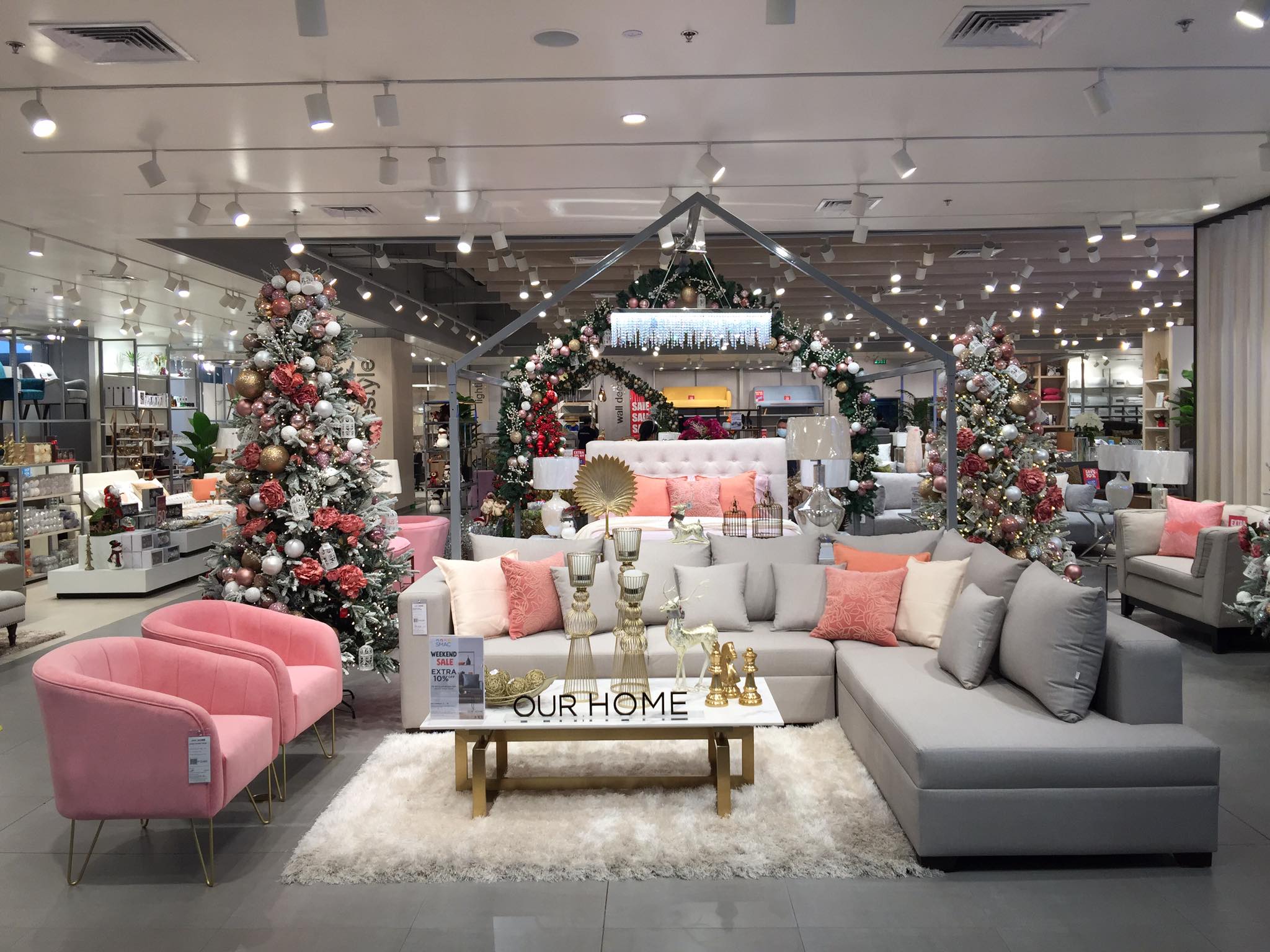 Behind, a luxurious queen sized bed with an ivory colored tufted fabric headboard welcomes and invites. Donned in a combination of old rose and cream sheets, and a selection of shams and bolsters in the same color palette, the bed spells the formula for a restful and soothing slumber amidst the backdrop of a festive celebration. A pair of white wood bedside tables provide function and a practical addition where white lamps in glossy glass finishes exude a classic appeal. A couple of pink loungers in rich berry velvet upholstery completes the look of the space, while above, garlands in the same décor as the trees elicit a consistent and cohesive look while at the same time, accentuating the sparkling crystal chandelier above the bed.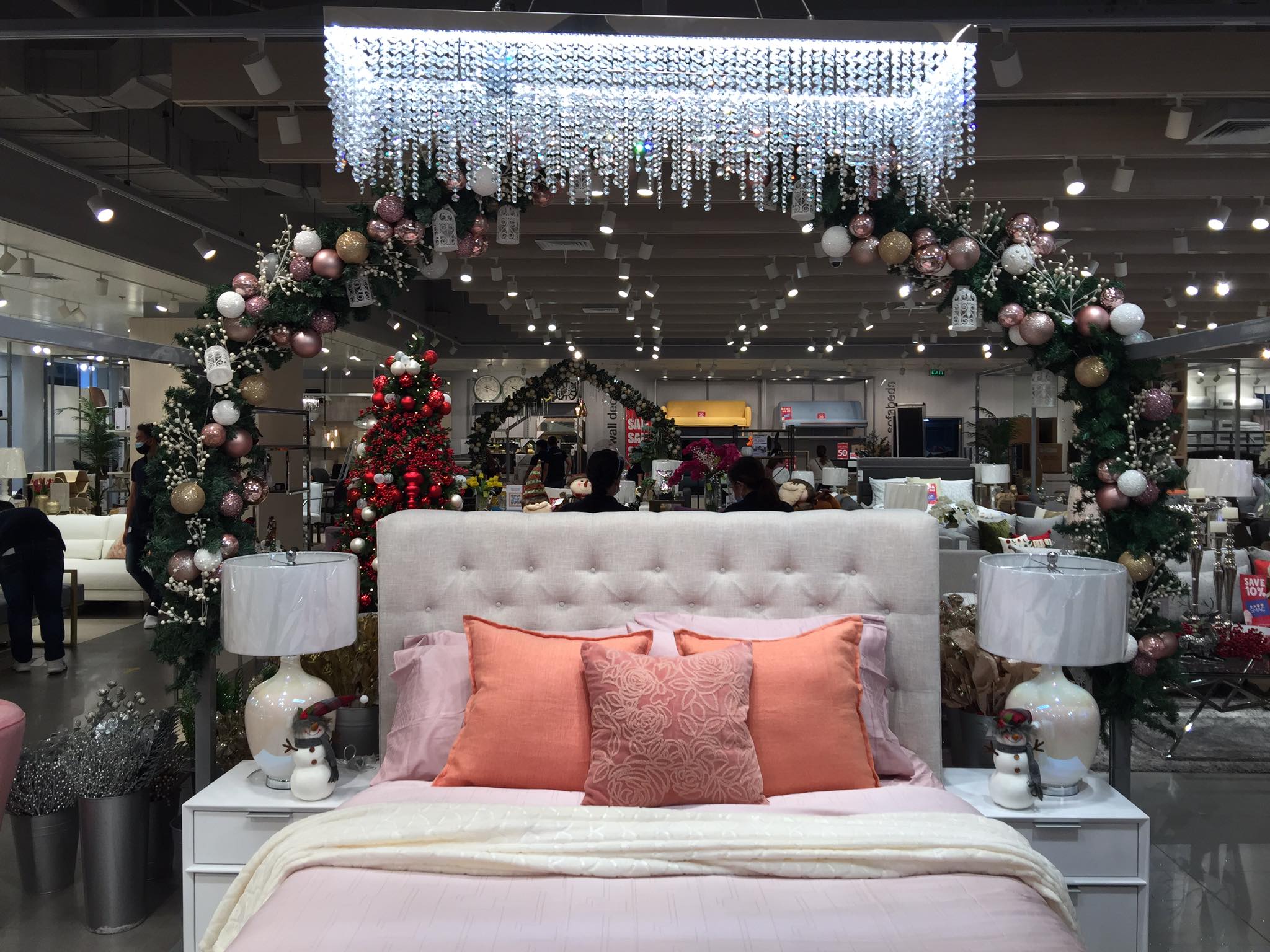 Towards the side, a table for four in solid clear glass echoes the refinement of the interiors. Surrounded with high back bone tinted fabric dining chairs with a tufted back rest, the dining set-up is replete with the makings of a chic and tasteful meal. On top, a pair of tall candelabras with white candles conjure up images of a candle-lit dinner.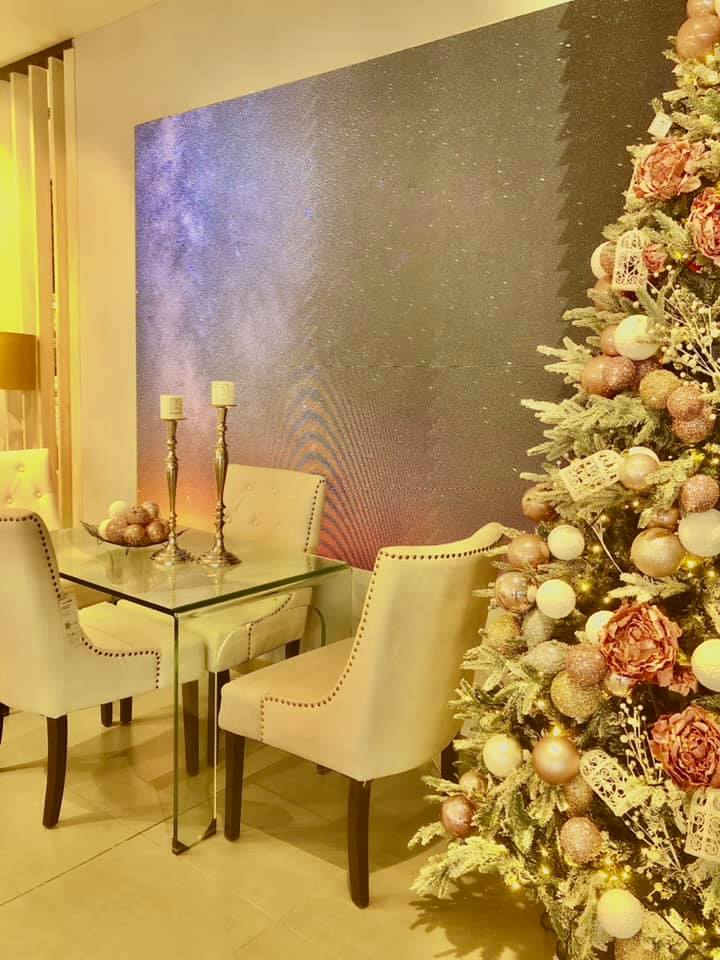 Photo by: Pojie Pambid
Christmas continues in OUR HOME and the Christmas styles series create a sense of eagerness for more Christmas trends to come. Vibrant and bright, the interiors and the décor speak volumes of a unique take on the holiday spirit. Stay inspired and glued as OUR HOME'S Christmas looks excite and whet your appetites with anticipation of more design ideas to come. The Christmas spirit persists at OUR HOME.
Great Designs. Great Prices.